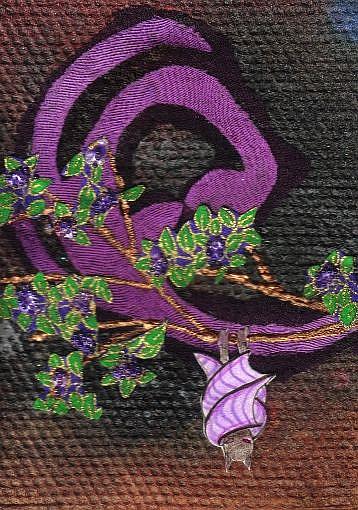 This is the violet winged bat. He lives in a plum tree and thrives on the sweet nectar and bugs that happen by his branches at night. I chose to stray from my normal human-esq focal point to this dark and mysterious creature. The plum tree was just too decadent for a mere fairy. This is an original mixed media ACEO (Art Cards, Editions, and Originals). I have drawn the bat in Prismacolor pencils on acid free paper. Other media includes handmade and other papers, paint,and fabric . This one of a kind piece is signed and dated on the back. Please visit my website
About the Art:
Title:

Violet Winged Bat

Media:

mixed

Dimensions:

2.5" x 3.5"

Date of Work:

2007

Appeared as Art of the Day:
By commenting, you agree to our Community Guidelines.