A chimerical construction, comprised of conjoined fish. They swim in opposite directions weaving around the circular edge of the astrological wheel. The connection between the figures is suggestive of the astral body as it is tethered to the mortal self. The fish is tempted by a fishing line. It is surrounded by an obscured jumble of text (an alphabet soup) on a darker background. Meanwhile, its oddly winged and whiskered counterpart floats upward on an illuminated background with hints of gold dusted across the surface. This tiny painting is inspired by an alchemical illustration of the constellations, illuminated manuscripts, and the fantastical creatures of myth and magic.
The image is painted on unstretched heavy cotton canvas that has been glue sized and layered to the thickness of illustration board. Delicate ink drawings in intricate detail are juxtaposed with many thin layers of oil glaze and pure gold pigment. This makes it's depth and richness difficult to photograph. The surface is more translucent and three dimensional than it appears in the picture. The cloudy spots are reflections caused by the scanner bed and do not appear in the actual painting.
Detail Images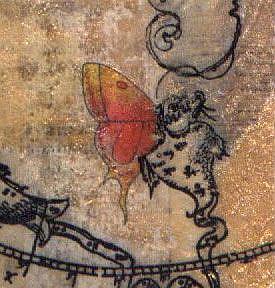 By commenting, you agree to our Community Guidelines.