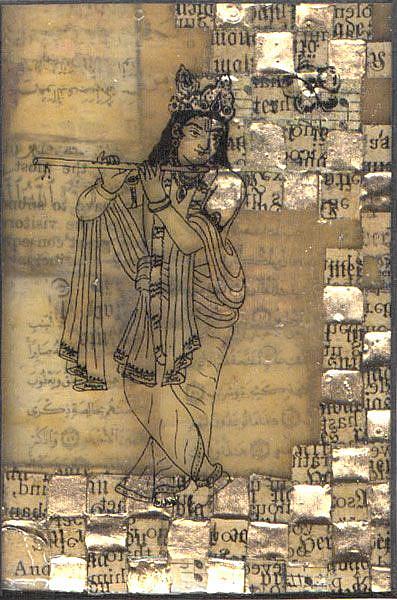 When Krishna plays his flute, all within hearing range gather to listen. He is the universal lover and beloved, and the sound of his flute seduces the soul.
Music and song both play a major role in many world religions, and particularly in the Hindu religion. Many gods bear instruments, although by far the most famous is the flute of Krishna. Those who honor Krishna also reciprocate with music, in the form of Kirtan, or devotional songs.
The concept of shruti (sound, or something heard) is at the core of the vedic religion, because it is believed that the wisdom can best be received via the ears rather than the eyes. The primary texts of the Hindu religion are called the shruti because they were originally taught orally and memorized, not written. Shruti-phala means "the fruits of hearing" and describes the spiritual merit or blessing conferred upon those who attend to the tales of Lord Krishna.
When you listen in meditation, perhaps you will hear the flute.
"Shruti-Phala" is inspired by Hindu miniatures and the palimpsest of illuminated manuscripts. The painting is professionally framed in a simple black wood frame and Bainbridge mat as shown in the picture below. The materials used to make and frame the painting are archival. The work is signed on the back of the canvas. The back of the frame is also signed. The painting may easily be re-framed with no damage to the original work.