This is my piece for the 2005 "Ripped Off" Show.
My partner was Noelle Hunt , and I chose the troublesome Kitt Katt for the insperation of this piece. I was instantly drawn to him, and he is truly one-of-a-kind. Since females are my speciality, I decided to create Kitt Katt's ultimate "Feline Fatale" based on her paintings of Kitt Katt, named Pussy Velour. (Though I'm sure he would have prefered bigger breasts!)
Noelle has a more fluid style compaired to my more "rigid" style. I tend to use black lines and solid colors in my works so this of course carried over into this painting.
---
This piece is SOLD.
---
Detail Images
The original Kitt Katt by Noelle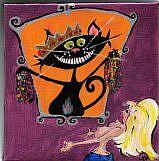 Another original by Noelle
By commenting, you agree to our Community Guidelines.