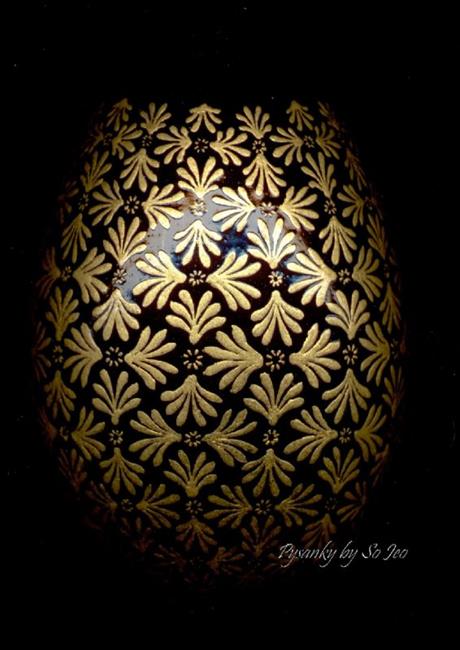 My family and I have already donated to the Red Cross to help with the devastation in Haiti but we would still like to do more. I am offering this item from
my Etsy store
with 100% of the proceeds going to the Red Cross or other Aid agency of the buyer's choice upon the date of sale. Confirmation of the donation will be sent to the buyer.
This beautiful Pysanka was made in the traditional batik wax and dye process on a real blown turkey egg, which is sealed with a coat of archival, industrial grade UV resistant, crystal clear finish. It measures approximately 3 inches tall. The design has been reproduced from an actual piece of Chiyogami paper, the leaves were first waxed and then the egg was etched so that the leaves are raised against the black background before the gilding was applied.
The process begins by etching the shell to remove all the spots that naturally occur on a turkey egg. The design is meticulously drawn out in pencil before it goes through a process of waxing and dyeing. Etching technique is used to create the raised borders and create a three dimensional effect.
This particular series is a bit of an experiment with my eggs as they have been gilded in keeping with the sumptous Japanese paper art. High quailty 22 Karat gold leaf manufactured by August Ruhl of Germany was meticulously applied to enhance the rich detail. The adhesive used was actually applied using my kistka in order to achieve the finest line width possible.
"GOLDEN LEAVES" is the 5th installment in the "Chiyogami (Yuzen)" Series and it is 18th new design released for 2009. As with all my eggs, yours will come with a FREE lacquered, dark wooden stand and digital COA (Certificate of Authenticity) that allows you to register your piece in an online art database.