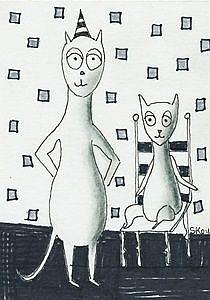 "You're Invited!"
Everyone who is anyone will be coming to Fitz and Hugh's celebration. They even posed for this custom party invitation that they sent out.
===
I created this little artwork for the February Nibblefest NFAC "Black and White" theme art auction that runs the 20th through the 27th of this month. All art entries start at just .99 cents.
Original by Sherry Key a.k.a. Skey. 2.5" x 3.5" ACEO art card, Ink on Bristol paper.
By commenting, you agree to our Community Guidelines.