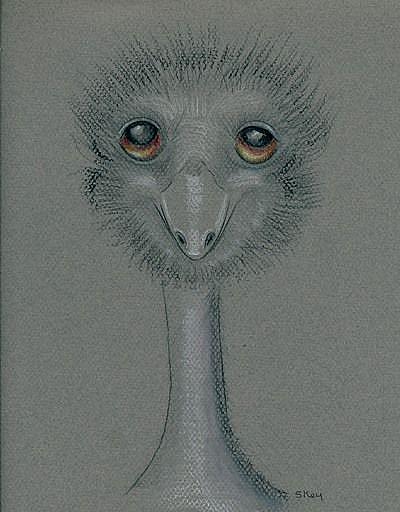 My neighbors out in the country have an Emu and her name is Henrietta. When they first got her they named her Henry because they thought she was a he until "he" laid an egg.
Interesting facts:
Average from 5' to over 6' tall
With an average 9' step they can run up to 40 mph and can get there in very few strides
Are native to Australia
Their powerful claws could cut through wire fence
The ostrich is the only larger bird on the planet
You can find more facts HERE at "Emu Magic"
Henrietta doesn't have a mate but she enjoys hanging out with the cows, chickens and other livestock when she chooses. She likes to eat bread and apples out of your hand. You want to cut the food up in bite size pieces and be sure and lay your hand flat so you don't get a nip with her powerful beak.
I love watching her antics and her full soft feathers on her body look beautiful when they get ruffled by the wind or a breeze. Almost looks like a head of hair blowing in the wind.
With this painting I kind of imagined the comical personality I see in Henrietta.
SOLD-8" x 10" Graphite, pencil and pastels on Canson pastel paper. An original artwork by Sherry Key a.k.a. Skey
By commenting, you agree to our Community Guidelines.