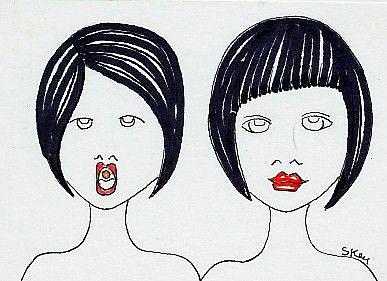 25 and 26 of the 29 Faces I created in May for the challenge - I call these girls "Twisters."
Both a little twisted, but don't be fooled. The seemingly innocent one on the right is the more "e-vile" of the two!
I like the simplicity of these four art cards (see other photos). Sometimes I enjoy getting a thought across with as few lines as possible.
These will be sold on Ebay as "a set of four" 2.5" x 3.5" ACEO art cards. These miniature (baseball card sized) art cards are very collectible and are all original works of art.
Copyright Texas Artist Artisan Sherry Key
By commenting, you agree to our Community Guidelines.