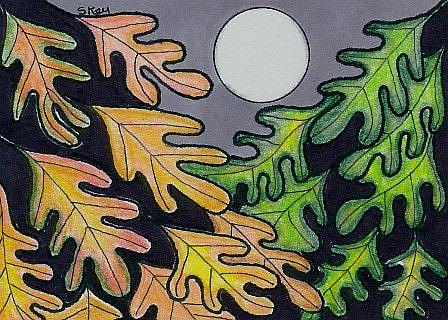 Nature ushers in the New Year. "All the leaves are brown and the sky is gray." But it's not really just the two colors on this day. It's all kinds of different colors as the season ripens and sloughs off the old, preparing for the new. Whether it's the beginning or the end of a season...it's always about renewal.
Colored pencils and ink on bristol (sturdy like card stock but made for artwork). 2.5" x 3.5" ACEO art card. Collectible baseball sized art cards are a microcosmic universe for an artist to give you just a little taste of their talent and art. Yours to enjoy framed, collected in albums, gift boxes, baskets and all kinds of ways.
This will be our last entries of 2011 for the "Nibblefest" themed art contest. This month's theme is "Landscapes" and as usual will be on sale starting the evening of the 20th of each month through the 27th, on Ebay. Good bidding to you all!...Sherry
By commenting, you agree to our Community Guidelines.