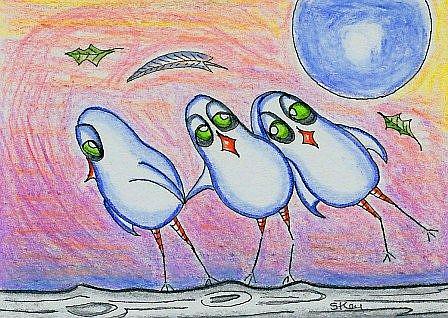 Title-Well couldn't decide on this one, several titles would fit. I'm thinking "50 Mile An Hour Winds" or "High Winds" or "Tumble." Regardless of whatever mysterious title it has, it was a fun idea to work with, and I hope you are smiling when you look at it too.

We have had blasting high winds in the Dallas area lately and that is what these little bluebirds are doing. Hanging on to each other trying not to get caught up in the Jet stream...lol. For sale in my ETSY shop.

ACEO-size 2.5" x 3.5", colored pencils and ink by Texas Artist/Artisan Sherry Key.

Most of these little art cards take me at least two hours to complete and most take longer than that. Lots of detail.

Sherry
By commenting, you agree to our Community Guidelines.