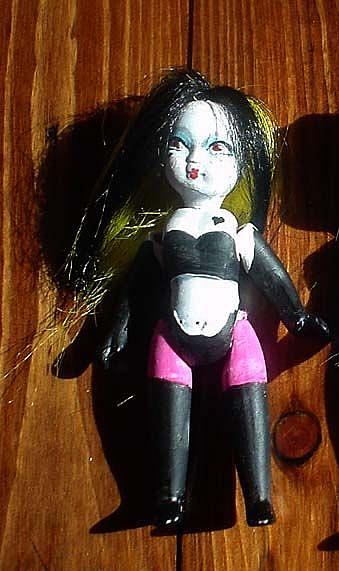 Meet KUMIKO the third doll in a limited series of 6 for my Carnival of lost souls.
This doll is available @ http:// wicked.etsy.com
KUMIKO began life as a Victorian style ceramic doll. She was completely stripped and he old hair removed. She was them primed painted in her new Goth burlesque attire she was then completely re wigged and her locks styled.
KUMIKO is a One OF A Kind DISPLAY DOLL, she will have some imperfections as is expected with any hand painted piece. While she is pose able she would not like too much playtime. Like me, slightly sullen KUMIKO prefers to sit on her ledge and think her own thoughts. She will however keep you company and hold your secrets safe.
KUMIKO Means "eternal beautiful child" in Japanese.
By commenting, you agree to our Community Guidelines.