Although this painting is sold, please check my
ETSY
shop for more paintings in this series.
This Heart has the feeling of vintage fresco. Inspired by the work of an artist friend of mine, please view her ebay auctions for larger pieces! V-fem EBAY AUCTIONS BY v-fem
A perfect way to have original art in a small space! Each painting is first sanded then a layer of artist's gesso is applied, allowed to dry then sanded again. The texture is applied with layers of artist paste. This light medium adds depth and texture without weight. The piece has 3 layers of gesso hand sanded between each application. When the painting is completed it is them finished with 3 coats of sealer to protect it from environmental damage.
Detail Images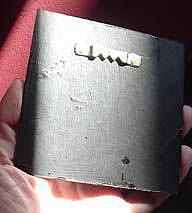 hanger is afixed with gorilla glue
By commenting, you agree to our Community Guidelines.