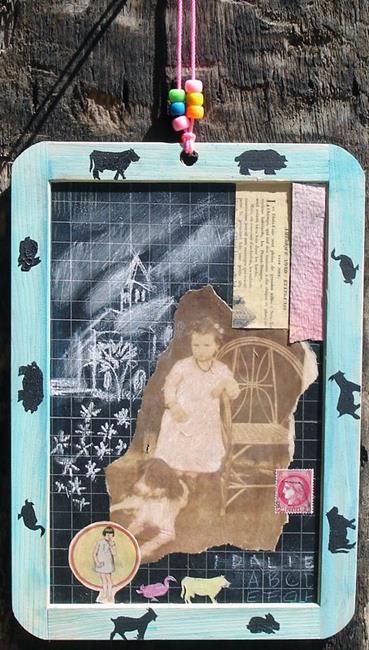 My concept of childhood focuses on femaleness, as I grew up an only child with no known male relatives and am now the mother of 3 girls.
The girl in this piece is my great-grandmother, Idalie Louise Amelot, who lost both of her parents at the age of 3 and was subsequently adopted by a wealthy childless couple. She had a younger sister who stayed in their village and whom she never saw again. This is an actual photo of her ca.1880, soon after her adoption. The dog, pretty dress and necklace don't seem to affect her sadness. Her adoptive parents renamed her Juliette Gandon, stripping her of the only thing she still had: her identity. Times and attitudes were different then, and her new parents were lovely people by all accounts. I was very much involved in this piece emotionally, as I am still researching her ancestry and hope to discover further details of her story some day.
I set this collage on an actual child's slate with a wood frame, similar to the ones I knew in elementary school. Behind Idalie's photo is a chalk drawing of the church in her village of origin. I have blurred it a bit, as well as her name, as they would soon be gone from her memory. The farm animals, beads and bits of paper (one from a turn-of-the-century schoolbook) are all symbolic of fleeting girlhood. The stamp establishes the location as France, long ago.
Materials include wood, slate, string, beads, paper, acrylic and watercolor paint, chalk and colored pencil.
NFS