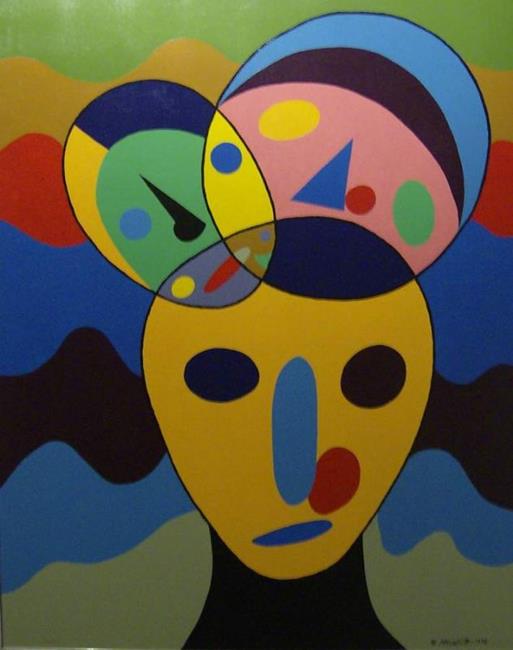 "ODIUM". This is one of my very earlier works on a 24" by 30"; .75" thick gallery wrapped stretched canvas, media acrylic paint. Some of my earlier works was never offered for sell and now I have brought them from my personal collection to sell.
This abstract composition is based on geometric phenomena. The surface of the composition is based on three overlapped circles that make 7 regions, and the idea is to fill each of the regions with numeric numbers 1 through 7 in such a way so that, each of the circles ends up with the same sum after all the regions are filled.
In this painting, I have tried to represent a solution where numeric numbers has changed its form and shape to a geometric shape and color. Each region is divided into one or more blocks, each blocks represents a unit and total number of units in any given reason represents the corresponding numeric number that holds the region. For instance, a region holds five blocks means the number 5 and that goes into that region and so on. I enjoyed a lot while doing it. I have created another painting in 2007 title, "COSMIC BLUEPRINT", 16" x 20" x 1.5" on canvas that represents the same puzzle but different subject than this one.
Email me at, mmoshiurr@hotmail.com if my works interest you.
Above mentioned painting is a 100% hand painted Original on Canvas 24"x30"x.75" gallery wrapped museum quality stretched canvas, media acrylic paint. This painting is framed with silver color aluminum material and it is signed and dated on the surface of the painting. The painting is numbered and catalogued. A coat of varnish / sealer has been applied to protect the surface of the painting. All images and text are copyright material 1995 by Moshiur Rahman / Puzzle Art, All Rights Reserved.
Color of images may slightly vary from the original depend on the setting of your monitor.