Meet the Faery Priestess of Skullcoco. She has Rococo sensibilities with a skull flair. Dressed lavishly in her silvery garb, she perches on her pomegranate-colored couch divining the mysteries. The pomegranate color is a reminder of the fruit that allowed Persephone of Greek mythology to travel between two worlds -- the living and the dead, earth and the underworld. The Priestess sits between her two cats that represent the two pillars in tarot -- light and dark, life and afterlife. Cats are creatures generally associated with magic and mystery. The skelly cat sits atop the Priestess' book of knowledge while the crescent moon next to the black cat illuminates the mysteries. The Priestess' trance-like gaze is searching for knowledge as she decides how much and what she will reveal to the querent.
© Misty Benson. All Rights Reserved.
Detail Images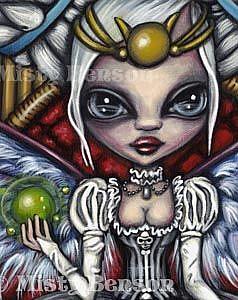 By commenting, you agree to our Community Guidelines.