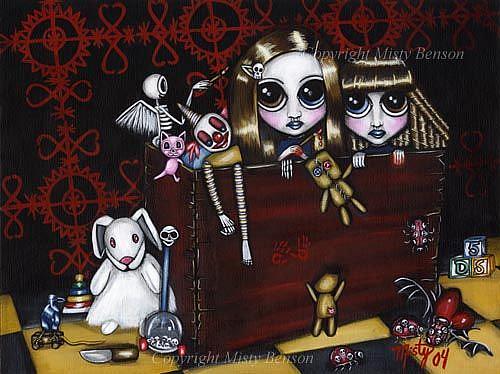 As all children should, the Dark Sisters have a toy chest full of their favorite playmates. From skellybugs to voodoo dolls, they have it all. They have been a bit naughty by painting patterns* on the walls, but I doubt anyone dares reprimand them. I hope you enjoy this print of the Dark Sisters and their Morbidly Adorable toys!
*The pattern on the walls is a symbolic ritual design used to invoke the spirits in Voodoo. It is the sign of the crossroads where the human and divine are believed to meet. It is the place where some will be judged for their sins. The most famous reference to the crossroads is the legend that blues man Robert Johnson sold his soul to the devil there.
The Dark Sisters are special characters of mine that often see a darker side of life. Sweet children's toys can become scary creatures to some children. Maybe you were a Dark Sister or Brother in your youth...
Copyright Misty Benson. All Rights Reserved.
By commenting, you agree to our Community Guidelines.