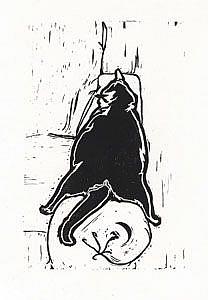 This is a block print of Amie and Bill Gillingham's cat Frog in one of his favorite relaxing spots. The couch is gone and unfortunately so is Froggy, but the image of him splayed on the sofa arm is one that is happily - and with no small amount of amusement, remembered.
The block was carved from a composite material suitable for oil or water based inks. Though the material is flexible and sturdy enough for a barrel press - this image was hand pressed.
By commenting, you agree to our Community Guidelines.