Whimsical Bird Feed House-22 unique paintings! All of the subjects are inspired by the birds, flowers and veggie/fruit that are in my backyard. I sat on my patio and looked at my yard each day I painted. This is the biggest yard art project to date. I used craft acrylics and varnished for color protection.
Side 1 - Hummingbird, Trumpet Vine, Lady Bug, Flower Pot and Pumpkins!
Detail Images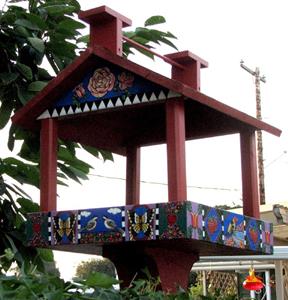 Side 2 - Chickadees, Tomatoes, Butterfly, Heart and Roses
Side 3 - Crow, Ivy, Sunflower, Star and Cherries!
Side 4 - Western Tanager, Strawberries and Tulips!
By commenting, you agree to our Community Guidelines.