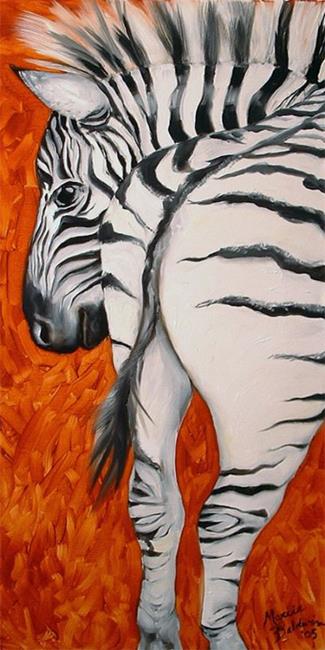 "ZEBRA"
is an Original Oil Painting by
M Baldwin, c2005.
"ZEBRA" is a Brand New Gallery offering for Ebay Collectors of M Baldwin Fine Art.
"ZEBRA" is a painting in an impressionistic style of a favorite subject of mine, the EQUINE, and in this case – the Striped Version, The Zebra . From the Popular WILDLIFE Series by Marcia, "ZEBRA" is a ShowCase piece. This one can be YOURS TODAY. Make it YOURS for home or office décor.
It is LARGE in size, 24"X 12" and looks magnificent framed in a wide molding. Framing is not necessary though, it is on gallery wrapped canvas.
All Photos of this painting are for display ideas only and not necessarily to scale. Be sure to check the size description.
Gallery Value: $2200. My paintings continue to increase in value as buyers from all over the world are building their collections. Get YOUR collection started today with this gorgeous painting!!
M Baldwin Originals are in Private Collections Internationally

"Don't Let This One Get Away!!"
Bid your maximum Today!
Thanks – M Baldwin
USPS Priority Mail. Insured.
Global Priority Mail for International shipments.
My packaging and shipping day is Tuesday of each week. Payments for paintings received by Monday of each week will be noted for shipment and shipped on Tuesday. Some variants may apply due to oil paintings that need more drying time. If your painting needs more drying time for safe shipment, I will notify you by email. Thank you.