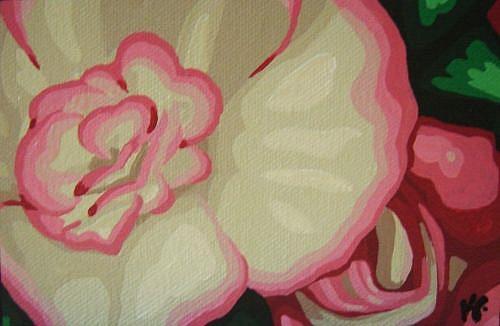 This painting features some lovely Begonias. Begonias are generally used as pot or bed plants and have been cultivated for a while as ornamentals - though there are some in the Begonia family that are used for herbs (so says wiki lol - who knew?).
With such a wide selection of begonia colors (reds, whites, pinks, and purples ect) it was hard to choose just one. So I chose to do a set of two different colors -"tipped or fade out". The larger is a beautiful "pink tipped" cream begonia accented by a younger, deeper red tinted begonia.
The way I have them postioned on canvas in this comp - reminds me of sibling rivalry. One older than the other, overshadowing the other, as they are just starting to blossom. Fighting for attention - so wanting to be seen on their own. You can almost hear them shouting "Look at me - Look at me!"
---
This painting is SOLD
---
By commenting, you agree to our Community Guidelines.