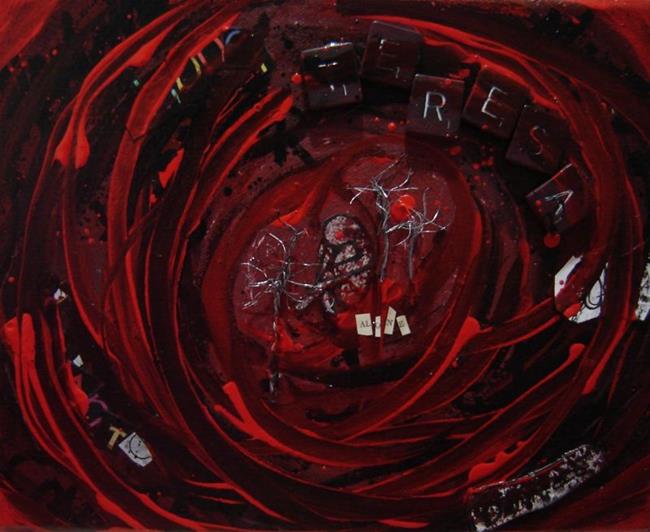 This piece was created specifically for the Childhood Mixed Media Show.
One thing that stands out in my childhood is being bullied. Bullies take a piece of you everyday. They can make you feel as if you don't have a right to exist, like you are less than a person.
Even after all these years, I'm still putting the pieces of myself back together.
What do bullies take from you? They take your childhood, your self esteem, self wortth, a sense of being, your sense of safety, belonging, your spark, your feeling of self worth, and much more. All gone or so destroyed you can barely function.
They can be cruel - so cruel you can start to think it's easier just to end it all. In today's times, it's worse now inner feelings of hatred of oneself born from bulling - are let loose in an explosion of retaliation taking the lives of the bullies, among countless others who are innocent.
Did I have it the worst - HELL NO, but I didn't have it easy, and there will always be ones who have it worse than the worst. People around you (family and friends) tell you to talk to teachers, principals or do it for you - and in the end it only makes you world more of a hell.
This piece includes the names of bullies that taunted me and were very much a part of my life well after school - in my mind.
I am in the center made of recycled paper I made from junk mail, as a symbol of trying to renew myself. I'm surrounded by wire trees that are family/friends who just don't know how to help, so they lack leaves. (and at times can be just as sharp as the tounges you battle everyday.)
Originally the names were going to show, but a funny thing about bullies is they don't remember you - but you will always remember them and probably EVERYTHING they ever did to you. How they made you feel.
I decided to cover their names, because this piece is about healing old wounds for me. I plan to burn it - GONE NOTHING BUT ASHES -- I will be set free at the ripe old age of 33 - and let it go. All go...
I wont let them own me anymore.
(I finally found all the pieces of myself - and I'm done putting myself back together.)
---
This piece is UNAVAILABLE.
---