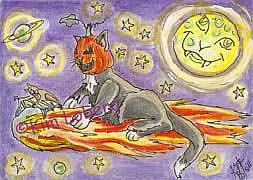 Punkin-Head Cat and his friend Batsy bat decided to go for an adventure. They hitched a ride on a passing comet. The Cat Moon is amused, laughing at their antics. Punkin-Head Cat looks like he's having a blast, while Batsy appears to be holding on for dear life. Who knows what kind of adventures they'll have!
This whimsical original ACEO art card is currently listed for sale on eBay.
By commenting, you agree to our Community Guidelines.