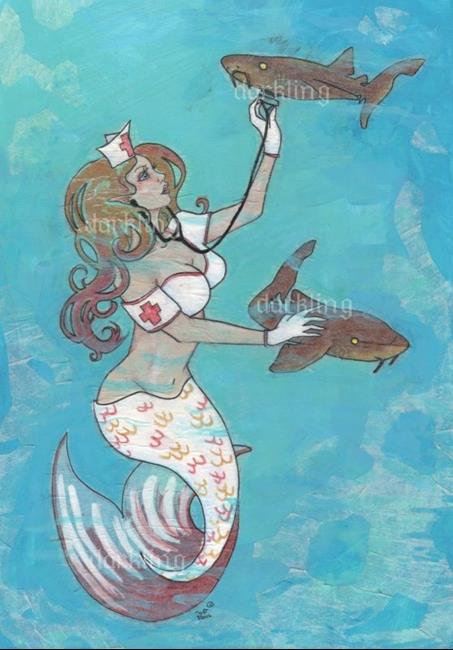 "Nurse Mermaid"
A caring nurse mermaid swims the seas, checking up on the creatures...Here you see here with two nurse sharks! I have created this piece specifically for this donation auction- 100% of the proceeds will go directly to my friend and sister-type person Rebecca. I do not want to go intot o many personal details, but essentially I am trying to help a friend in financial need, due to some unexpected medical bills. So, this is what I can do for her. You get art. Becca gets a little less stress. I get to feel good. You also get to feel good. So does Becca. It's really a wonderful situation. ;)
This is an original mixed media painting/illustration measuring 7" x 10". She was created in acrylic paints, papers, ink, pencils, and sealant on masonite.
Initialed on the front; full signature, title, and date are on the back. Sealed, wired, and ready to hang as is, or easily framed if you wish! Watermark does not appear on the actual art!
To see all my current eBay art listings, please click
HERE
!