The princess and the frog....gee whiz have I kissed a few of these:maybe even a prince or two. This is my entry in the Nibblefest art Contest, a themed art contest beginning on the 20th of the month. Please be sure to search for NFAC to see more great entries, each starting at just 99 cents. Thanks.
Detail Images
The Princess picks flowers by the pond.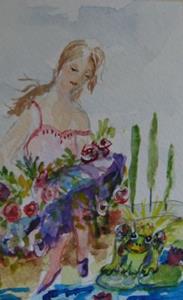 The prince just sits on his green little pad waiting.
By commenting, you agree to our Community Guidelines.