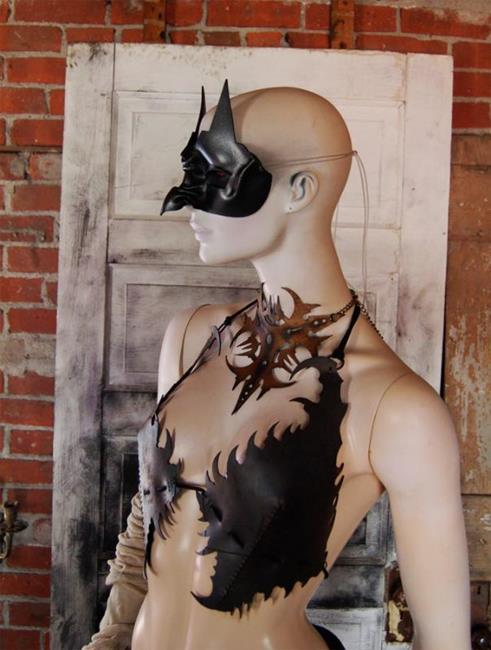 Leather mask wet molded in 5/6 oz medium weight tooling leather.
Hand sewn needle sculpted features. The folds and furrows are anchored in place with suture-like shaping stitches in heavy duty nylon filament.
Heavy duty gathering on beak/nose creating neat, even, shaping folds easing the leather into a bird beak profile. Fierce and elegant. Brow also has several gathered furrows pinching it down towards center of forehead. Narrow triangular ears like witch's hats for a sleek deco styled silhouette evocative of an owl.
Finish is metallic black chrome. Dark yet highly reflective.
Interior is painted prior to molding with soft, flexible non flaking fabric paint to ensure a satin smooth surface against skin. Also protects the mask and gives extra stability to the shape.
All knots on inside are neatly covered with leather patches.
Sturdy elastic ties....put mask on...secure with a square knot...then gently tug from the part closest to the mask, then the tails...this sets the knot to stay in place of best fit. then you can remove and replace the mask without having to re-tie the knot. I have found this soft elastic rubber cord is very comfortable, strong and dependable. Just make sure to set the knot with some tugging to tighten it in place. It seems thin but is also very easy to pick apart to un-do the knot. The holes are easy enough to re-thread with another strap material if you so choose.
Mask is shown on a mannequin with Pris/Bladerunner makeup. Keep in mind the red eyes are on the mannequin...the eye holes can be seen best in the pics on the wall and the male mannequin. That look could be achieved I imagine with spray on black mist eyeshadow and red metallic contacts if there is such a thing...perhaps red mirror shades.
Mask is available in my etsy online shop, Midnight Zodiac,
http://www.etsy.com/listing/46549711/leather-eye-mask-owl-witch