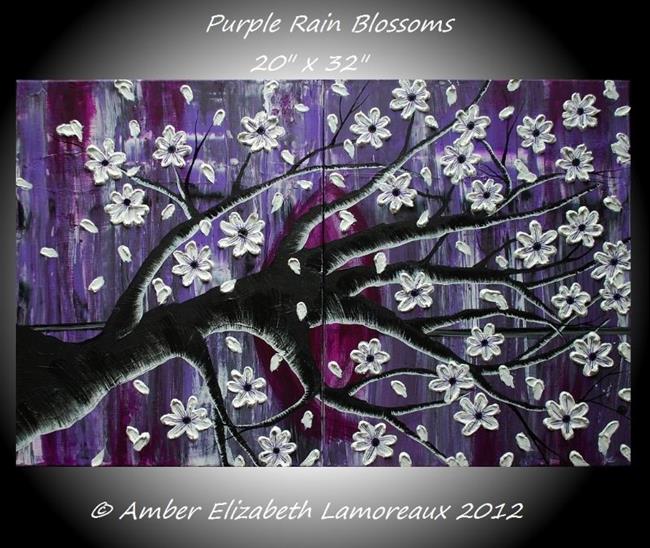 'Purple Rain Blossoms', 20" x 32" original impasto textured palette knife painting on gallery wrapped canvas by artist Amber Elizabeth Lamoreaux. This is a heavy texture impasto painting of a surreal branch flowering with white blossoms against a rainy purple backdrop. This painting has a great 3-d effect of the petals coming off the canvas that makes you want to touch the flowers.
White flowers are symbols of simple beauty, innocence and humbleness.
*Title: Purple Rain Blossoms
*Colors: Shades of purple, black, white, and gray
*Acrylic painting done using high quality acrylic paints
*Painted on two 16" x 20" x 3/4" gallery wrapped canvas (total measurement 20" x 32")
*Sides are painted black so no frame is needed
*Varnished with glossy wet paint look finish to perfection
*Arrives wired and ready to hang up!
*Signed on the front and back (with title and date also on back)
*Carefully packaged for shipping and shipped with full insurance
Feel free to contact me with any questions.
Thanks!
-Amber
Like my art on Facebook: Facebook: http://www.facebook.com/pages/Amber-Elizabeth-Lamoreaux/229800437046306