Leo Stop! I am finding
you such a Scallywag.
will you say the same in the years to come
when my butt is big
and my bosoms sag?
This is my entry for the Mona Lisa Unleashed. When I began to look at the painting and really study it, I really can not see why they call her the most beautiful woman in the world. So what is it I wondered? and came to the conclusion that her pose is most graceful and elegant. She is emits this subtle, regal, femininity that while elegant also ages her. It all begged the question what was she like before her womanhood hit it's stride? Try as I might I could not see her as a wall flower when everything in her seems to be simmering just below the surface. What was she as a young girl? Leo Stop is the illustration of my belief that Mona Lisa was a beautiful, precocious, free spirited...Flirt.
Leo Stop! is an original illustration and was created in Poser 10 (model positioning), Artrage (landscape painting) CS6 (overall composition)and onONE Adobe (color correction and vintage lighting)
Detail Images
mona lisa cup.jpg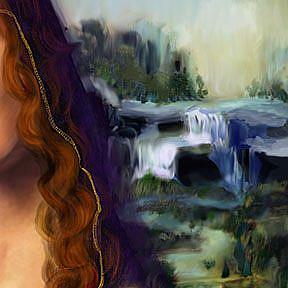 mona lisa cup1.jpg
mona lisa cup2.jpg
By commenting, you agree to our Community Guidelines.