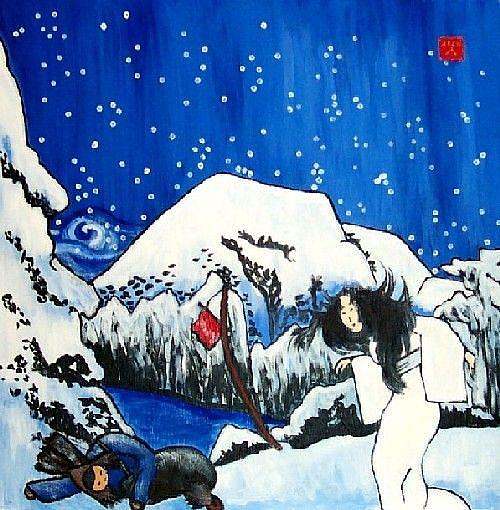 Based on the Japanese Folk Tale, and retold in the book "Kwaidan" by Lafcadio Hearn (aka Yakumo Koizumi)
There were once two woodcutters in Old Japan. Mosaku, an old man, and Minokichi, his young apprentice. The two woodcutters are caught in a storm away from home when the boat that ferries him across the river leaves without them. Unable to reach the warmth of home, they settle in for the night, but can make no fire. Yuki-onna is the snow woman who comes and freezes you with her breath, which is like white smoke. Without mercy, she takes the breath of Mosaku while he sleeps, leaving a frozen shell. Minokichi awakens and watches in horror. He feels a chill as she turns to take his breath, but she takes pity on the boy because he is so young and handsome. She warns, "Tell anyone about this, even your own mother, and I will come back and kill you."
A year passes, and Minokichi meets and marries a mysterious orphaned young woman. Even his mother sings "Yuki's" praises before she passes away. 10 years pass, and Yuki bears Minokichi 3 beautiful children, and never seems to age. One night, while she's sewing, the husband looks at her and says, "You remind me of that terrible woman from that night 10 years ago when old Mosaku died. Her skin was like paper, and I then saw she was beautiful, like you. I have never seen a woman so beautiful and white before, except you." Then Yuki tells him that she is that woman, and he has broken his promise, which was for life for both of them. She tells him she'd better not hear he's been neglectful of their children, or she WILL come back and kill him. She then leaves in a flurry of snow and is gone.