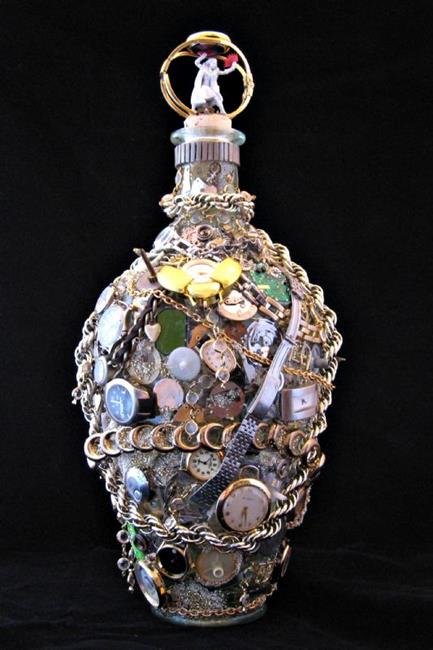 I have been creating mixed media mosaic pieces lately and buying lots of junk jewelry. Many of the batches have old non-functioning watches. Originally, I intended to make a clockwork man on an old door. Unfortunately, I soon realized I would need more watches and clocks than I had hope of acquiring at a good value. The idea is still under consideration, but I may use bicycle gears instead of watch and clock parts.
As many of my friends know, I like to buy old bottles and give them new life - and I like junk jewelry mosaics. Just like that inspiration struck! and I put these watches to work (or not work depending how you look at it.)
I adhered the watches and old clock parts with an epoxy resin, Magic Sculpt. It is a two part epoxy, that when mixed, has a vaseline like consistancy. It worked well, although I did have to tape some of the heavier pieces on the bottle until they dried.
This bottle did not have a stopper and my inventory of old stoppers did not have the "perfect" fit. So I purchased a new cork and epoxied a watch, some small clock parts and a silver colored figure of a fighting chick (as in woman) on top. She is thinking, "HA! I dare you to unstop time. I will kick your butt!" or something like that since she is tough and ageless.
The between spaces where filled with gold seed beads and silver mini-marbles - the mosaicist in me just couldn't let the piece be finished without some type of "grout". This piece is no longer for sale.