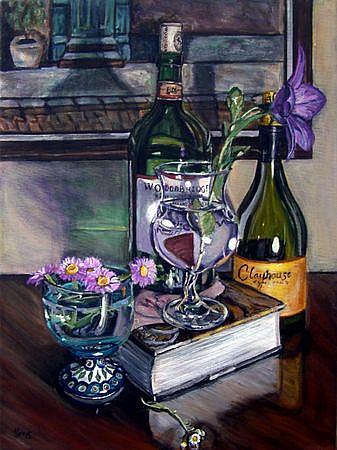 This is my rip of Muriel Areno. I was inspired by Muriel's "National Geographic" still life painting. I loved seeing the distortions of the words on the magazines from the water in the glass. My first thoughts in setting up this still life were to do a very similar set up, but I didn't have such pretty magazines. :D. I decided instead of setting up with magazines that I'd paint the water glass set in front of a wine bottle and liked how I could see the label of the bottle showing through the water glass.
The flowers were picked from outside. Ok, I started this still life inspired by Muriel this summer, so my entry now is for the "Better Late than Never Show". :).
This painting was so fun and challenging to paint! I look forward to sending this to Muriel! Thanks Muriel for partnering with me!
Enjoy! :)
Link to Muriels painting:
http://www.ebsqart.com/Artists/cmd_8256_profile_portfolio__8_3_G.htm
By commenting, you agree to our Community Guidelines.