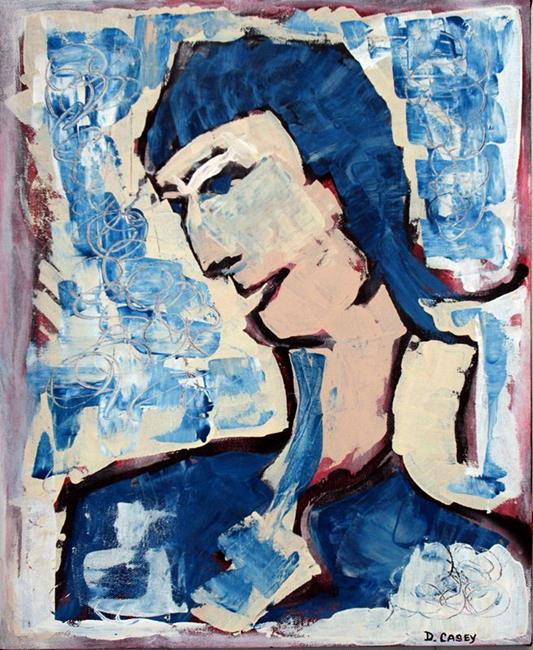 Blue Haired Boy
This is my very abstract portrayal of a boy with blue hair. It's done in a "rough" style which lends the painting a "raw" look. Kind of looks like a wood block printing style and it's a look I really like right now.
"Woodblock printing" is a technique for printing text, images or patterns used widely throughout East Asia and originating in China in antiquity as a method of printing on textiles and later paper. As a method of printing on cloth, the earliest surviving examples from China date to before 220, and from Egypt to the 4th century. Ukiyo-e is the best known type of Japanese woodblock art print. Most European uses of the technique on paper are covered by the art term woodcut, except for the block-books produced mainly in the fifteenth century.
In any event, it looks like this guy has something very important on his mind, and he's opening his mouth and getting ready to say it! Or did I catch him in mid-sentence? Is he pensive, or happy? Is he singing or just speaking?
Did he dye his hair blue by mistake (like the time Greg Brady dyed his hair green by mistake) or is he in a Punk-rock band, and hence the crazy hair? Or is it just a hat on his head? I won't give you the answers, but let's just say he's very outspoken and leave it at that... :)
I show several views here from differing angles and include a closeup for detail of colors and texture. The sides are painted black, so there's no need for expensive framing; it's ready to hang.
This piece would make a great Holiday gift!
The colors I used are: cerulean blue, off white, fleshtone, black and crimson.... The crimson areas come from an "underpainting" and I just liked the way they looked showing through all the blue and white areas - making for a "rough" looking but extremely interesting textured piece. The more I look at this piece, the more I like it. I keep wondering about what this guy's like. He's a puzzle, draped in mystery, wrapped in an enigma... well, you know....
This piece is on gallery wrapped canvas and measures 16x20" and I signed it on the lower right hand side.
Thanks for looking and have a great day!