The watercolour and ink ATC's are a way for me to unwind between pointillism pieces. I lose myself in the simplicity of design and colour. This piece is about symmetry and pattern. When I look at it I see a flower at it's springtime prime in a garden with a picket fence. It has been created on 140lb acid-free watercolour paper using only the best quality paints and ink for longevity and brilliance. The scans of artwork never seem to serve them justice. Please visit my website at www.sandrawillard.com to see more of my work and other art available for purchase.
Detail Image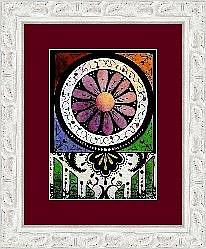 How it might look framed.
By commenting, you agree to our Community Guidelines.