8 Inch silver plated charm bracelet, w/ decorative toggle clasp.
Images purchased from a collage artist , re sized and fit into the Photo charms then finished with a glossy resin seal! These charms are Antiqued Silver plated, round decorative edge 30mm photo charms.
I added gorgeous 12mm lampwork beads, rose 12mm faceted glass Czech, pink swirl pillow beads, vintage white round 8mm glass beads, and more!!!
This bracelet is chunky and full!! Gorgeous Images!! One of a Kind!
Detail Images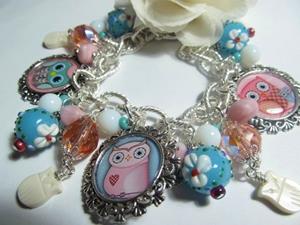 NEW OWL bracelet pictures 008.JPG
NEW OWL bracelet pictures 005.JPG
NEW OWL bracelet pictures 002.JPG
By commenting, you agree to our Community Guidelines.