I began this necklace in June 2006 in spite of the fact I do not do time consuming pieces during summertime. I had just begun to make my own lampwork beads to go with my projects but I wasn't quite sure how I would incorporate them into my work yet. After only one afternoon of beading, the necklace was put aside for a few weeks before it and the tubes of beads (pictured) were placed into a sandwich bag. Before long it ended up out of sight and out of mind because I completely forgot about it until this winter when I ran across it while organizing beads. I am entertaining the idea of reviving this forgotten piece and seeing what I can make with it after all this time. One thing that is certain, it will be very different than any ideas I had upon it's inception, which at this point is anybody s guess.
Detail Images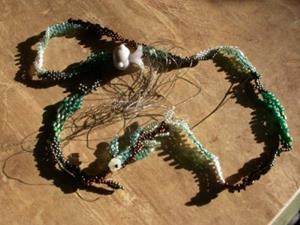 Necklace, thread, and needle
Lampwork bead and flower bead clasp
The only embellishment so far
By commenting, you agree to our Community Guidelines.