A window into the unseen world underground. Growth: the sprouting and unfurlng, the pressing upward, the silver seeds scattered, and the unleashing of color and filmy majesty in the hidden places where the future begins. The work is watercolor on Japanese paper. It is one of 18 pieces in my series called "The Unwrappings". These each involve the process of unwrapping one of the 18 colors in my paintbox, and using the silver foil in each work, in a different way. The silver foil near the top of the painting (seed-like) is rolled and pasted. In the mid-right tiny holesare pierced and in one of the close ups you can see the tiny rectangles of foil on the reverse-- which show through, like glimmers of life on the fron. Also, on the right, you can see filmy Japenese net-like paper glued and painted, as if the makings of plant life, membrane, textures, and that same perforated paper was pressed on the lower mid section to give that underworld (fantasy) look of depth...blue and rose. The greens and yellows emphasize the life energy unfolding from underground.
Detail Images
scattered seeds (foil unwrappings)
filmy membranes painted foil sparkles of life glimmer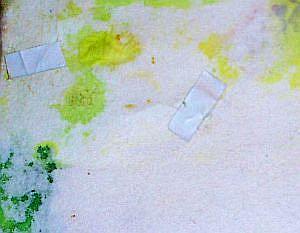 underside--foil glimmering through
By commenting, you agree to our Community Guidelines.