These are SOLD paintings These are two 16" x 20" canvases. It is completely interchangeable. The inspiration is cedar. Cedar is gorgeous wood and smells lovely. The paintings represent fresh cedar (light) and old cedar (dark). The colors are 3-D thick reds, ochre, metallic gold and metallic copper, ivories and browns. Rich metallic acrylic creates warm dimensions. Plenty of high gloss texture reflects light from all angles. The dragonflies are painted in such a way that they look as if they are part of the wood grain. . These sides are painted black with a coat of transparent burnt cherry on the dark. The sides of the light are painted ivory with a transparent coat of the same burnt cherry color. Painted in Gallery wrapped acid free canvas. Staple free, ready to hang. The painted has been coated in a high quality art varnish to protect.
Detail Images
Subtle Cedar Dragonfly: Detailed Image I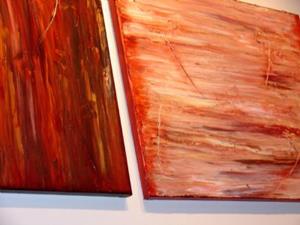 Subtle Cedar Dragonfly: Detailed Image II
Subtle Cedar Dragonfly: Detailed Image III
By commenting, you agree to our Community Guidelines.