This is my entry for the Tolkien show. I was familar with Tolkien because of The Hobbit and Lord of the Rings, but I was unaware of his poetry. I was browsing through to see if there was anything that I could illustrate for the show when I found a passage that totally drew me in. It was perfect inspiration but I was so intrigued I had to read through all of his poem. I found him really quite elegant and oddly highly visible in his prose. He is going on my short list of favorites poets.
I chose the following excerpt from I Sit and Think, J.R.R. Tolkien:
Of yellow leaves and gossamer
in autumns that there were,
with morning mist and silver sun
and wind upon my hair.
I drew the figure in water soluable graphite, ink, and color pencil. I then brought it into CS6 and utilized custom brushes (for the background) Picture Perfect onOne for the light and color correction, added flexify II blending layers to add a delicate moodiness. When I was happy with the illustration I finished it with several Photoshop filter layers.
Detail Images
Toiken sit think cup.jpg
Toiken sit think cup 1.jpg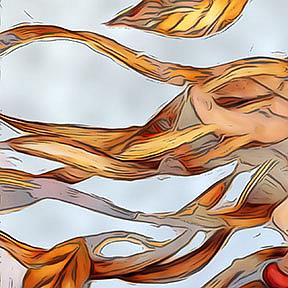 Toiken sit think cup 2.jpg
By commenting, you agree to our Community Guidelines.