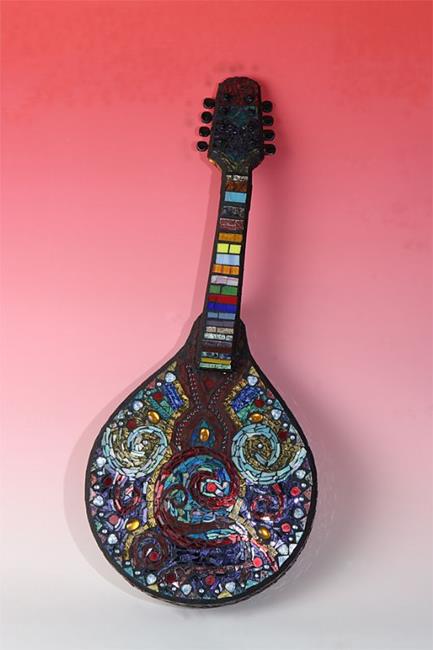 I was asked to donate a piece for the Sacramento Choral Society and Orchestra for their annual April Gala and Fundraising.
I started to make an original 2D wall piece, when I thought about the subject and potential owners. I thought about mosaicing a musical instrument, but did not have a form to mosaic on.
I solicited the Freecycle.Org Yahoo group for a damaged violin or guitar. One generous person emailed me with a mandolin with a damaged neck. This was perfect for my purposes. Thanks Freecycle!
I also want to thank Laurel Skye, a fellow California mosaic artist, as well as Mosaic Artist.Org for their fast help with advice.
I removed most of the mandolin's hardware, sanded and then prepared the wood with Kilz sealant. Once the sealant was dry, I glued the tesserae (mirror glass, stained glass, irridescent glass, Van Gogh glass and other glass & tile bits) to the surface with Weldbond. For grout I used Spectralock's Midnight Black. Black enamel or acrylic paint was applied around the edges and top of the neck.