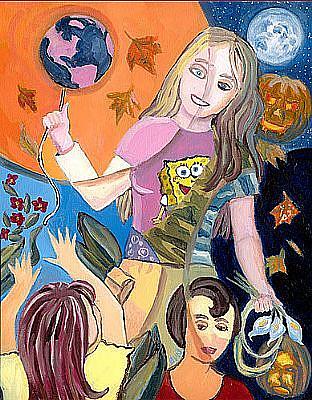 I chose to rip off this talented cubist artist because I have been a follower of Shantelle Julian's (Ebay username
artygirls
) art because her art has a different perspective from my art and they are always so serene and and extremely well executed.
Because of a recent personal tragedy in our family, I thought Shantelle's approach was the best way to express my bottled up emotions that have rendered me helpless for months.
This is about a 15 year old who had chosen to take her life by hanging herself in her own closet one late December night. That's when our backs were turned, I suppose. Quite a contrast to a very loving child who always had a smile on her face and excelled in her school activities. She had the world on a string and kids around her wished they could be so cool. The last we saw her was last Halloween. I believe the last shard that paralyzed me (art wise) was plucked out of my heart when I painted the rope in her hand. Suddenly, I can paint again and mention her name without free falling into a dark pit.
Thank you Shantelle for sharing your art with me xoxox ~erika
By commenting, you agree to our Community Guidelines.