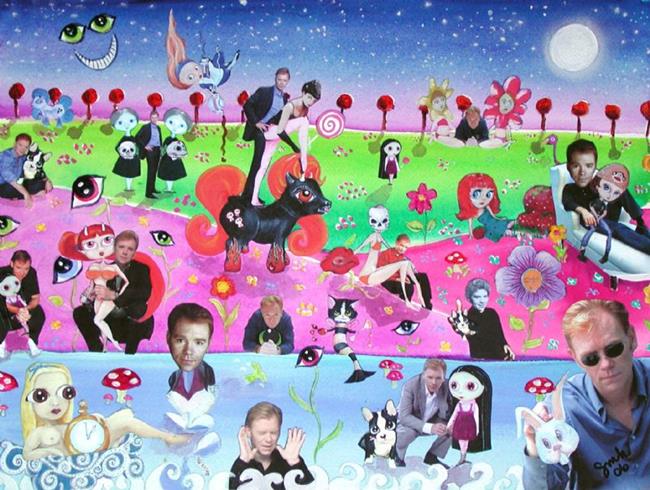 I couldn't wait to get busy on this piece and I knew from the start that I was not only going to rip Noelle Hunt, but also, David Caruso.
I am a big CSI fan so this was bound to be a fun project. And I just love Noelle's Wicked Dollz - you've got the cutsie little fairy girls, the hot & sexy babes, and lots of Alice in Wonderland, so I chose to bring them all together in one meeting place: Alice's dream.
David is keeping very busy here and I'm not sure how rested Alice will feel when she wakes up but this surreal landscape reminds me somewhat of a Hieronymus Bosch painting with lots of hedonism and debauchery. That cheeky David's gonna get himself in a whole lot of trouble!
I used several of Noelle's pieces for this project - the detail image below shows which ones. I had a hard time stopping myself because I love her work - and what was initially going to be an 8 x 10" turned into a 12 x 16" piece. I chose bright, bold colors as that is how I see Noelle's work.
This piece was done using gouache for the landscape and sky, photo images, copies of Noelle's lovely gals & things, acrylic paint for the details, and a little white pastel for some added highlights. It was done on Arches watercolor paper. Enjoy!