This was painted as a tribute to Becky Korpita and her work which I have so admired for a long time. It is a take off on her little "Blockheads" which is a series she has been painting. I thought it might be nice to add another visitor to the beaches that Becky often depicts and this fellow is a snorkeler. (with a hairy chest, might I add.) I have painted him in my pop art style and really had fun doing it. I had planned on adding a shark, however, I didn't want to disturb the balance of nature too much. Incidentally, I do know that lobsters aren't red until you cook them, but thought a brownish green one just wouldn't do.
I have never painted anything so small in my life! It is really a different kind of experience. I learned a lot.
Detail Images
The left side and bottom of the canvas. Notice the chest hair!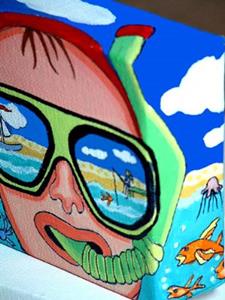 The right side and top of the canvas including the breathing tube.
Becky Korpita's Blockhead
By commenting, you agree to our Community Guidelines.