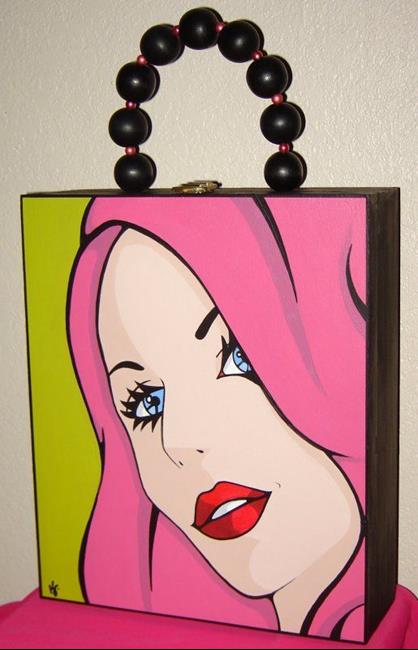 This purse was created specifically for the Repurposed Show.
My purpose in creating this was to show that recycled art does not have to LOOK like recycled art - it can be stylish.
I found this wood wine gift box (Premiat Varietal Fine European Wines???) two buildings down, in pretty sad condition. I had to sand it down to get rid of discoloration/age to make it viable again and change out the hinges.
I then painted one of my Pop Gals (#11 in the series)on the front and the rest of it black for maximum pop of the colors.
The large beads on the handle are from a gawdawful avacado green plant hanger I pulled from from the trash as well. (repainted) The smaller pink beads are from a broken necklace of my Grandmothers I had found in an old pill bottle last year.
This was an amazing experience and I will be on the lookout for more items to covert. :D
The title comes from the movie "Three To Tango" when they make note of the most used line in Movies. "Let's get out of here". I think it is quite fitting since many of the things we (as a culture) throw away don't belong there in the first place. This purse is large for ladies who live large and actually like to cary thier stuff with them.
---
This piece is SOLD
---