For this piece I decided to actually incorporate artwork done by some children I worked with a few years ago--the hearts were cut out by the children, decorated, and were intended to be strung together and attached with raffia as a Valentine's Day project. The painting includes all kinds of mixed media--feathers, beads, gold leaf, a butterfly cut out from a postage stamp, ribbon (in the rim of the flowerpot), buttons, rhinestones, and raffia, as well as the hearts cut out by the children. I also applied a thick layer of crackle varnish to create some depth and an aged feel. I did paint over the hearts and added gold leaf, but the arrows, little butterfly decorations and stickers were added by the student whose project I cut up to use for this painting (that is why one little heart is upside down!)! We also made tissue-paper and pipecleaner flowers, and these are what gave me the idea for the flowers. I enjoyed adding all the "fun stuff" to the surface of this painting!
Detail Images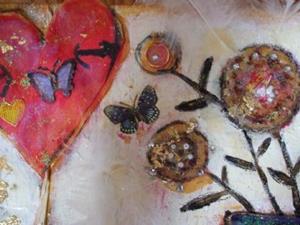 heart & flowers
button & antiqued surface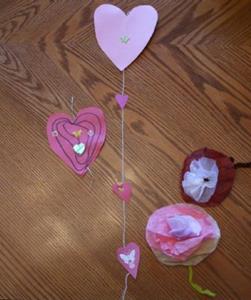 original valentine's day project & tissue paper flowers
By commenting, you agree to our Community Guidelines.