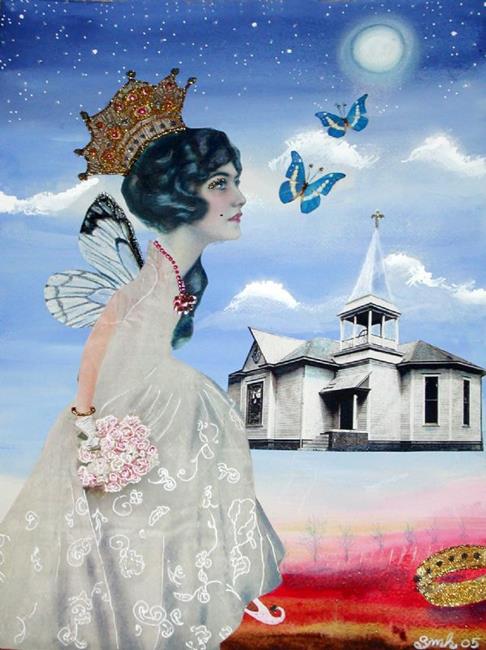 This broken-hearted butterfly fairy princess was left at the alter. Ah well, life will go on. She's still got her wings to take her away to more joyous places.
I love butterflies. The whole metamorphosis that takes place between the larval, pupal, and winged stages is wonderous, but also it is sad as these creatures live such a short life once they are free from their cocoons.
I often use butterflies and moths in my work. Their beauty inspires me to create so in a sense they are the muse behind these lovely insect fairies. But a bigger inspiration comes from my love of surrealism and the idea that you can create your own world with winged fairies and things that can only be real in the imagination.
This is a mixed media collage on Arches watercolor paper. I have done the background with layers of goache, photo images, and vintage magazine clippings. The crown is constructed from a photo image and embellished with glitter paint and granite crystals. I have drawn her shoes and highlighted her gown and bouquet with white ink and the ring is made using granite crystals (these are used in cement to give it that sparkly look) and glittery fabric paint. This item has been sold.