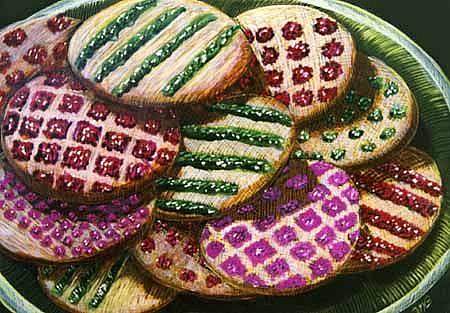 Warm and sparkling crystals of sugar for holiday time. My recipe: 2 c. sugar, 1c. soft sweet creamery butter, 2 fresh eggs, 6 tbsp. of sour milk (made by adding 2 tsp. white vinegar to 6 tbsp of whole milk), 1 tsp. baking soda, 1 tsp. vanilla, 4 1/2 c. all purpose flour.
Mix in order and roll thin. This recipe does ot require refrigeration of dough. Cut with cookie cutters or a drinking glass rim dusted with flour. Sprinke with candy sugar that has been sifted through a stencil. You can make the stencil or purchase one. Bake at 400 degrees. Don't overbake. Cool on wire rack.
By commenting, you agree to our Community Guidelines.