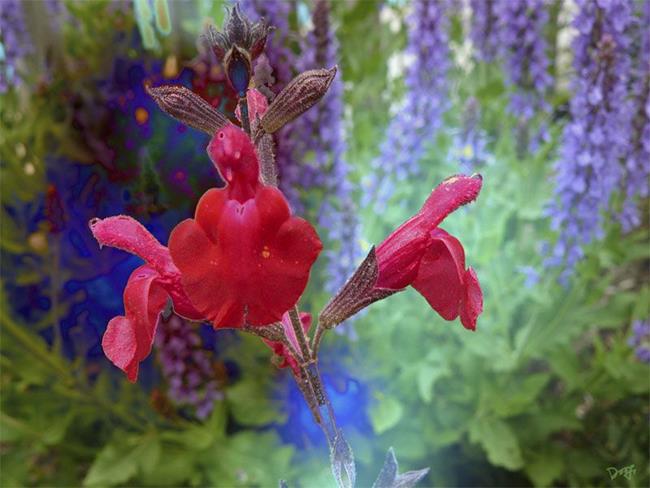 Varieities of Salvia can reach 1 m in height and have opposing, wooly-texture leaves that are 10-20 cm long and 6-12 cm broad. Its flowers appear in several clusters of 2-6 on the stem, are 2.5-3.5 cm long, and are white, pink, or pale purple or red in color.
The name Salvia derives from the Latin salvere, which means "to heal". This herb is highly regarded for its healing qualities. An ancient proverb states, "Why should a man die who has sage in his garden?". The ancient Greeks used it to treat consumption, ulcers and snake bites. The Romans would use it for toothpaste; they also believed it to be good for the brain, senses and memory. Research on Alzheimer's disease, has shown that it improves cognitive function over a period of several months.
The roots of Salvia miltiorrhiza, also known as Red sage, are used in traditional chinese medicine to thin and promote blood flow. It is also used to treat myocardial infarction and stroke.
Not exclusively medicinal salvia was used in ales as a flavouring before the use of hops became common. Additionally it has been used to flavour wine, notably muscatel, and some tobacco products.
On a more common note, the leaves of different varieties are used in teas and cooking, often known to cure headaches or stomach upsets.
All colors of this plant are beautiful and I have several varieties of white, mauve, purple and red in my garden to prove it. And the bees love it as well! The main image shows the red salvia with the purple in the background. The 2nd image is that of the purple salvia subjected to digital manipulation to give it a delicate and frothy look.