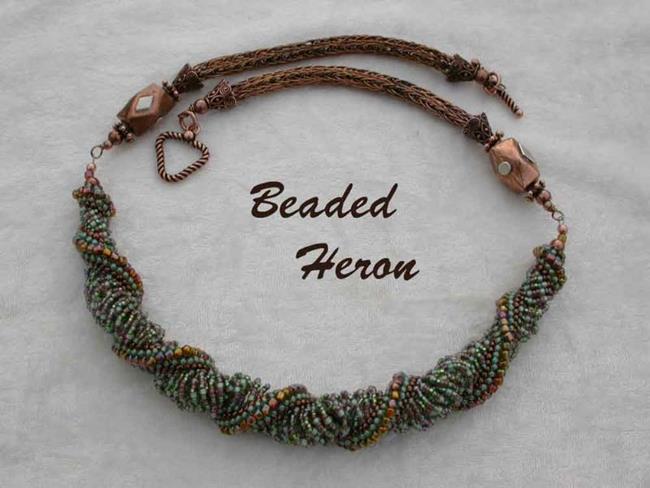 I've been dreaming of making a smashing piece using copper, and then the idea of using Viking Knit chain along with a Dutch Spiral beaded piece occured to me. I can say that this was not an easy piece to bead, and since I had never thought to try this combination of materials before, some assembly planning was involved.
The result of the fruits of my labor happens to be exactly the look I was going for! A 8 1/2 inch long beaded Dutch Spiral hangs below strands of a Viking Knit to creat this stunning piece of jewelry. Viking knitting is the oldest form of knitting known to man and dates back as early as the eight century!
Two copper focal beads accented with sterling silver compliment the joining of the two distinctly different components of this necklace. I have dipped the chain in liver of sulpher to give it more of an antique look, and with time it will change to a luscious dark copper.
Total lengt=22 inches
This work has sold but I will accept comission on a different color necklace in a similar style.
By commenting, you agree to our Community Guidelines.