(3 photos) This is my entry in the "Birdhouses" show at EBSQ. I don't usually believe in combining sales pitches with my art entry but in this case it is for Charity and I am trying to get the word out for that as well.
The newest artist-run, artist-sponsored charity initiative with 70-100% of proceeds going to a different cause each month. September's featured cause is "Habitat For Humanity." On September 12th artists will create a 7 day auction on Ebay. It's going to be a great bunch of causes to create for. If you are an artist yourself I encourage you to join us. If you aren't an artist then we appreciate your help bidding on the artwork in September. For sale on Ebay.
What is it? The Twelve for Twelve Project seeks to raise money for 12 different charities in 12 months by auctioning original paintings, drawings, or other artworks.
About "Fairy Birdhouse":
I thought what better artwork to create for "Habitat For Humanity" than a "habitat." This is a darling little miniature birdhouse suspended on copper wire with a cute little bird's nest on a hand painted wood base. The birdhouse is a little over 3" tall and the nest is about 1" around with three cute little brown eggs. The whole sculpture is a little over 9" tall.
Detail Images
Base w/ bird's nest and eggs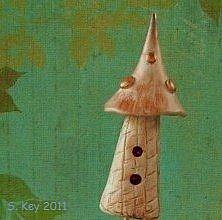 Birdhouse
By commenting, you agree to our Community Guidelines.