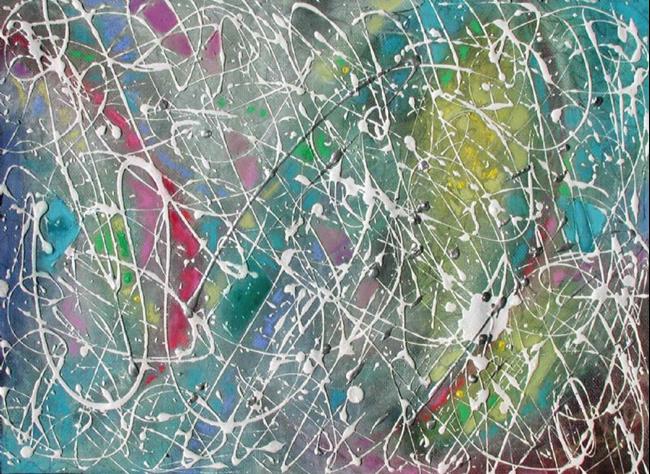 I have always critcized myself for being too precise in my art - even in my abstract paintings I find myself very picky about where I place my brush strokes. I have been experimenting with a looser style - trying to let go of certain inhibitions. I'm not close to being where I want to be but this is a start.
This piece was created while listening to music. Just a mixture of stuff I downloaded onto the computer: Dennis Wilson, Big Star, Richard Buckner, Burt Bacharach, The Moody Blues, Beethoven - a random mix of some of my favorite stuff. I had no idea in mind of what I wanted to create. Instead I just followed the flow of the music and applied colors that evoked whatever mood each song reflected. I then took a graphite stick, closed my eyes and worked my hand to the music - which happened to be something very upbeat. At that moment I remembered riding as a passenger down I-80 in Pennsylvania and using my camera to capture some bizarre images of headlights from the oncoming traffic. It was dusk and I pointed my camera out the front window at the cars in the opposite lane. I held the shutter open for various lengths of time while the car bumped along the road. I also took multiple exposures and ended up with these wonderful little abstracts of white squiggly lines surrounded by color. I worked my hand with my eyes closed, trying to remember these lines. Next I took off my sandals and danced on it, blending the pastels with my bare feet and diminshing some of the harsh lines left by the graphite. In the end I dripped white acrylic over the paper - then added some silver over that. This is the end result. Unfortunately, I couldn't incorporate the pastel footprints from my rug into this project:)
By commenting, you agree to our Community Guidelines.