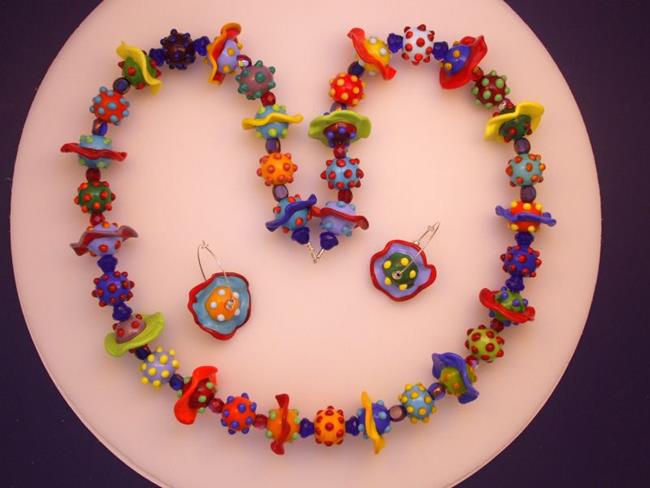 Title: FIESTA NECKLACE & EARRING SET 216
Wonderful Handmade Lampwork Glass beads using glass made into a beautiful and fun necklace and earring set.
37 handmade lampwork beads making a necklace measuring a full 32" in length strung on strong wrapped beading wire with a silver hook and eye closure. This necklace uses 18 glass multi-colored ruffle rounds handmade lampwork beads approximately 30-32mm on average and 17 glass multi-colored rounds with raised dots lampwork beads approximately 19 mm on average along with assorted Czech glass beads to make a full solid glass necklace. The earrings are made on 1 1/4" sterling silver hoops with one ruffle round per earring and 4 sterling silver round beads, which makes an earring 1 3/4" long from top of hoop to bottom of bead.
Copyright © 2006-2008 Bonnie G. Morrow / Ambrosia Arts ® All Rights Reserved.
# M 92
SRA - Self Representing Artist
By commenting, you agree to our Community Guidelines.